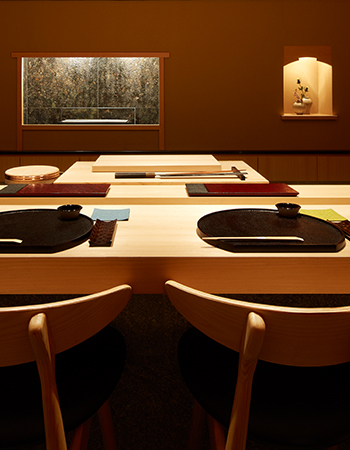 An Intimate Culinary Odyssey
Celebrity Chef Kenjiro 'Hatch' Hashida invites you to embark on a gastronomic journey through the Sandō pathway of Hashida Singapore to explore a multitude of inventive creations served in his signature omakase-style.

Master Chef Kenjiro 'Hatch' Hashida
Affectionately known as 'Hatch', Chef Kenjiro Hashida is a graduate of L'Ecole Tsuji Tokyo (Tsuji Culinary Institute) Since the tender age of 14, he apprenticed under his influential father, Master Chef Tokio Hashida, who heads one of Japan's premier sushi restaurants, Hashida Sushi in Tokyo.
News & Events
Stay updated with the latest collaborations, events, menus and more at Hashida Singapore.
Address
77 Amoy Street, Singapore 069896
Opening Hours
Tuesdays only
Dinner: 7.00pm to 10.30pm
Wednesdays to Sundays
Lunch: 12.00pm to 3.00pm
Dinner: 7.00pm to 10.30pm
Closed on Mondays
Reservation & Contact
To make a reservation please click here. For further enquiries please call/WhatsApp us at 8129 5336 or email us at [email protected].
Advanced reservation is encouraged. Dress code: Smart casual.
Restaurant Policy
Kindly note that the restaurant consists of only chef's counter seats. In our commitment to serving freshly procured ingredients from Japan, a credit card information hold will be required to secure your reservation, and a charge of $200 (Lunch) and $300 (Dinner) will be made in the event of a no-show or cancellation within 72hrs.
We wish to inform you that seafood and soy are predominant ingredients in our meals, for any dietary restrictions, please inform us at the point of your reservation. Thank you.